Change Driver Behavior with our FREE Driver Training Video Series!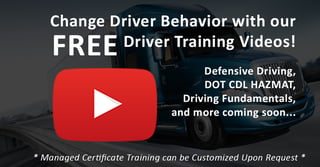 Welcome to our Driver Training Series!
An effective safety program consists of many elements but key to every program is ongoing training. Whether introducing new safety concepts or simply providing a refresher, training can reinforce good habits and change risky ones.
At Glostone Trucking Solutions, we are dedicated to our clients' success through safety. We offer a series of FREE driver safety videos that any carrier can use to supplement their training program from owner-operator to large fleets.
Our specialized training will cover Defensive Driving habits, Hazmat Driver Training, Driving Fundamentals, and much more.
Want to take these videos even further?
For those looking for a managed program that can include onsite, classroom, webinar, and video training, we offer a platform that can set up a custom program, track the program elements and measure for effectiveness!
Let us know of your interest by filling out the form. Otherwise, enjoy the videos!
Defensive Driving Videos:

Hazmat Commercial Driver Videos:

Driving Fundamentals Videos:

Inspection Videos:

Maintenance Videos:

Hours of Service Videos:

DOT Drug & Alcohol Testing Videos: